How to Start a Blog in Three Easy Steps
YOU CAN DO THIS!
It started with a search for fruitcake. I didn't even like fruitcake at the time, but I wanted to give the perfect fruitcake as a gift. So I began an online search and, yes, one by one I found fruitcakes in Texas, Nebraska, Kentucky and Virginia.
I was bouncing from one website to another as I tried to guess at the best one to buy. It was frustrating and I wondered why there wasn't a resource online where I could see all of my best options in one place.
I knew there had to be plenty of other obsessive shoppers like me. In fact it is because I have a reputation among my friends and colleagues for being such an exhaustive online researcher that they often ask me for my recommendations.
Finally, rather than send out my best food finds one email request at a time, It made sense to just list my best research online. And that was the launch of my blog EatGiftLove. It's been one of the best decisions I've made and a lot of fun. Oh, and by the way, I love fruitcake now. My current favorite is the Fruit and Nut Cake from Beatrice Bakery in Nebraska. So good!
Now it's your turn to share your passion for food, recipes, cooking, baking, healthy eating, grilling, reviewing, celebrating and more by starting a blog of your own!
Is it hard to start? Here's what every blogger knows: if you have the skills to send an email, you have the skills to start and run a blog. And it costs just a few dollars a month when you follow my tips below. Plus it is seriously fun and can be personally and financially rewarding.
In a little over a year my blog went from being a small site visited by family and friends to having thousands of visits a month, to now earning money.
As my blog has grown, friends and colleagues have asked how I did it. To thank them for their early support and encouragement, it is my pleasure to walk them and you through this simple guide to creating your own blog on any subject you choose. I'm going to tell you exactly the tools I use and what not to bother with. You are going to travel light and go far.
How to Start a Blog in Three Easy Steps
Follow the illustrated "how-to" below and you will have a professional and beautiful blog set up in about 10 minutes.
Note: All of the services and tools I write about in this tutorial I currently use. Some are affiliate links which means it costs you not a penny more (and in some cases it allows me to offer discounted promotional rates), and I receive a small commission if you make a purchase. But this tutorial will help you no matter what tools you choose or which free or paid WordPress theme you use.
The Three Easy Steps to Launch Your Blog
Choose a Hosting Provider and Domain Name. EatGiftLove.com uses Bluehost.
Install WordPress (hint: it's already part of your Bluehost hosting account. You don't do a thing!)
Design Your Blog (hint: a professional design is as easy as drag and drop!)
1. Choosing a hosting provider and domain name
I am using the same affordable hosting provider I started with three years ago: Bluehost. Here's why:
Your domain name is included for free
This promotional rate saves you quite a bit of money.
You get five email accounts
You get a free SSL certificate (this let's search engines know your site is safe for visitors. Other servers charge for SSL certificates.)
You get a 30-day money back guarantee
…and the most compelling reason…
Bluehost has already loaded your site with WordPress
Choose a Domain Name that Can Grow with You
Whether you already have a domain name, or are just thinking about some names, here are some quick guidelines to consider: Is it easy to spell? Easy to remember? Not too long? Can you already imagine a logo that might go with it?
No matter how perfect a domain name you dream up, avoid one that might limit you. For example, right now you may want to blog about your amazing collection of guilt-free dessert recipes, but later you may want to branch out beyond desserts. Pick a domain name that gives you room to grow as a blogger.
Once you have a good list, head to Bluehost. The basic plan for less than $4 per month is all you need. It is the same plan we have used for years. You'll pay in one lump sum for 3 years to get the promotional rate which is excellent.
You are now a few clicks away from launching your blog!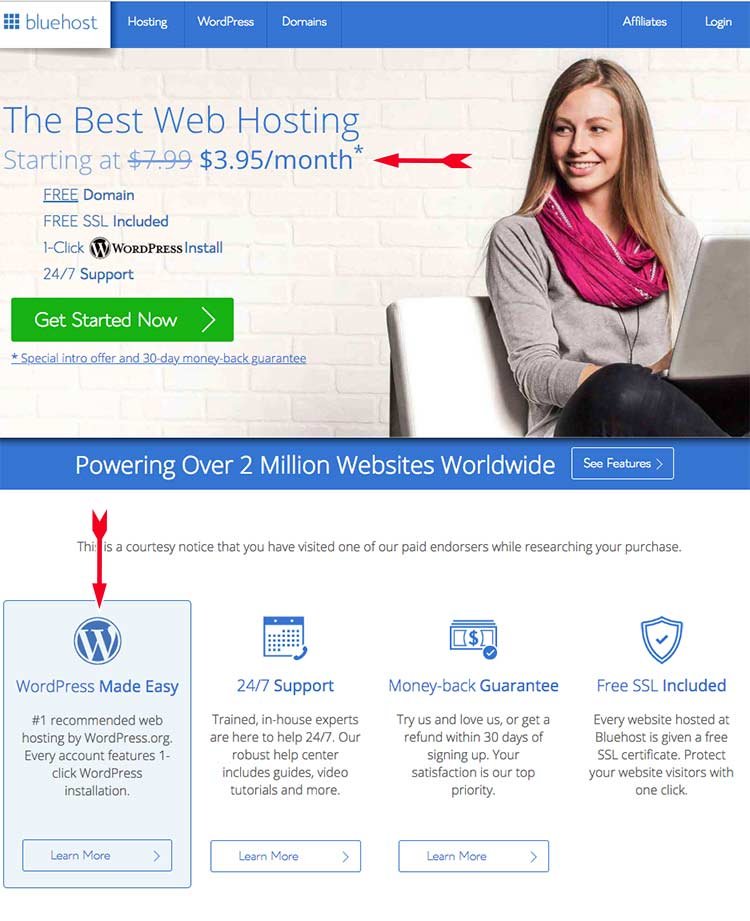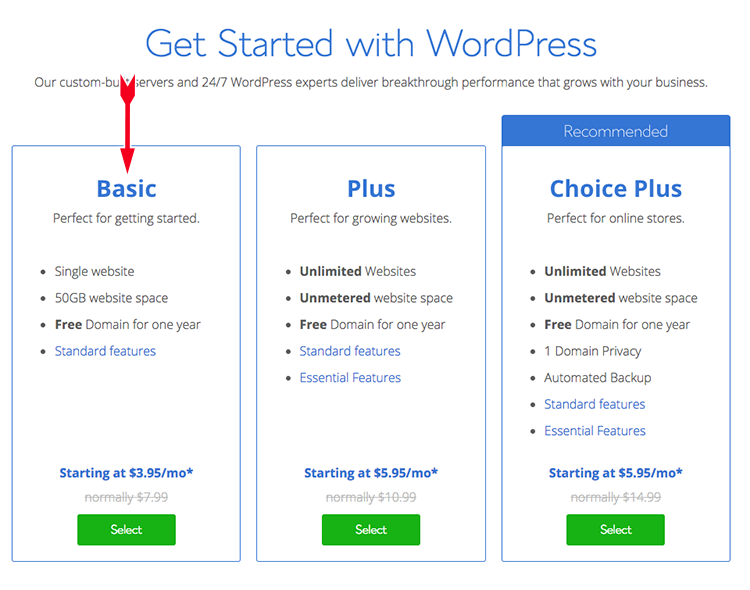 As you sign up you'll be offered services we don't think you need and that we don't use. Privacy protection is optional. If you buy privacy protection your name and contact information is not publicly shared with your domain name in public records. We don't use privacy protection. Site backup can be taken care of for free with a free WordPress Plugin and a free subscription to Dropbox. But this is the most important option I insist you don't buy: Do not sign up for the Search Engine Jump Start! Experienced bloggers groan at that unnecessary "upsell." The search engines will find your site on their own. And SiteLock is another upsell that can be accomplished with a free Wordfence or Sucuri plugin.
Once you've completed your payment information, you will receive an email to confirm your new hosting subscription. Follow the directions to "authenticate" you are the owner and…
Congratulations! You have just launched your blog. It's time to get busy sharing your ideas with the world!