Need gourmet brownies delivered? We've found the best brownie gifts from coast to coast! Whether you're shopping for a classic brownie, a cakey brownie, a dense and fudgy brownie, or brownies that are so over-the-top that they strain the very definition of a brownie, we've found the bakers who are making your sweet wishes a reality. Let's get shopping!
Killer Brownies, Dayton, Ohio
Rich, Chocolately, Gooey Killer Brownies
Looking for overkill? Killer Brownies saw you coming and is ready to out-do even your most decadent brownie fantasies.
Over-the-top flavor combinations are sandwiched between layers of rich brownies.  Flavor options include the rich, buttery Salted Caramel layered brownie. Or you might consider the Cookies & Cream or Brookie flavors which are ideal when you're in the mood to indulge both a brownie and a cookie craving at the same time. Or how about "The Original" flavor combination that involves layers of chocolate brownies full of pecans sandwiching a blanket of velvety caramel.
Chocolate brownie not your thing? How about the Blonde Ambition bar loaded with macadamia nuts, Heath mix, and white chocolate.
A single Killer Brownie weighs in at 1/3 pound and can conceivably serve four (although that sort of portion control does not exist in my house. Just sayin'.)
Each brownie is individually wrapped and shipped in a 4, 8, 12 or 16 pack in a gift tin. Or you can choose the party tray of bite-sized brownies and sample multiple flavors.
Let's Shop Brownies!
Gift Presentation: Individually wrapped brownies are shipped in a gift tin. It takes sturdy packaging to contain the gooey goodness.
Pricing: Gifts start $25 and up.
Take me there: Order Gourmet Killer Brownie gifts online via the official online store for the Killer Brownie Dorothy Lane Market.
Baked Brownies, Brooklyn, New York
Fudgy, Rich, Dense and Delicious Brownies by Baked
I could tell you that Baked Brownies are slightly fudgy and made with the finest ingredients. I could say whether you order the brownies or blondies (think brown sugar, chocolate chunks and nuts) it's doubtful they'll be around longer than the day they arrive. Or I could just fast forward and say Oprah picked these brownies as a favorite thing.
You may already be fans of Baked thanks to their cookbooks available at Amazon, or even their brownie mixes you can buy in grocery stores or online.
Brownies or bars arrive individually hand-wrapped in a reusable gift box. There's no sense piling adjectives on these brownies. If a moist, fudgy brownie is what you're shopping for, you are going to love Baked.
Let's Shop Brownies!
Gift Presentation: Brownies and/or bars arrive individually wrapped in a gift box.
Pricing: A half dozen brownies start at $24.
Shipping: Multiple options. Free UPS ground shipping on orders of $75 and above.
Take me there: Get gourmet brownies and bars delivered from Baked.
Fat Molly's Brownies, San Diego, California
Fat Molly's Decadent Brownies
If I were assigned to bake the brownies to bring to a potluck or sell at a fund raiser, the brownies I'd aspire to bake would look a lot like the gorgeous, moist, homemade exquisiteness of Fat Molly's Brownies. I mean just
look at them.
See if the sensuous food porn quality of the photos spike an insulin response in you too.
Created by chef Alex Donovan, the brownies are made from Dutch process Ghiradelli chocolate, butter (of course), and studded with semi-sweet chocolate chips. They are then baked to a "just done" consistency that at first bite signals to your cravings they've been served.
Each brownie weighs 4 ounces, and measures 2.5 by 3.5 inches. So an order of a dozen brownies = 3 pounds. You better have a solid workout plan or some voraciously hungry friends.
The Brownie Gourmet, Royal Oak, Michigan
The Peanut Butter Cup Brownie
Sure, you can buy classic brownies topped with a layer of dark chocolate ganache from The Brownie Gourmet. But then you'd be missing out on experiencing a whole playground of brownie flavors that include S'mores, a brownie built on a buttery graham crust, layered with toasted marshmallows, and drizzled with Dark Chocolate Ganache. Or how about the best-selling Lucious Lemon, a cakey lemon brownie with a sweet but bracingly tart housemade lemon glaze (this best-seller is tied with the Salted Caramel Brownie!). Or, try our favorite, the Peanut Butter Cup Brownie. The title says it all.
Gifts boxes begin at $22. The Custom Brownie Box that allows you to choose your favorite flavors consists of 8 4-ounce brownies (2 pounds of brownies!) is $45 and includes free shipping.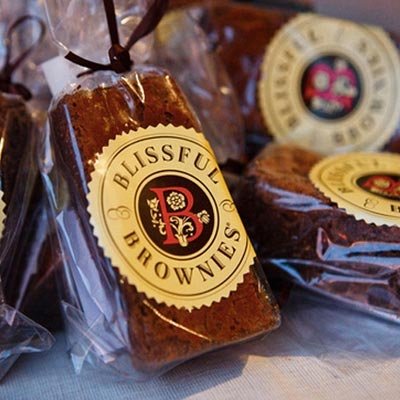 Classic and Elegant Blissful Brownies
Blissful Brownies are what you choose when you want send the indulgence of a brownie with a touch of elegance. These are the same brownies sold by Williams Sonoma. Blissful describes their brownie best on their website: "Imagine holding a chunk of gold, very dense, nestled in tissue and packaged in an elegant gift box."
But fancy descriptions better be supported by an exemplary taste experience and Blissful Brownies delivers. Choose from more than a dozen flavors that include Classic Chocolate, Chocolate Walnut, Chocolate Orange, Peppermint Candy and Brown Sugar.
Larger brownies (5 oz each) can be purchased individually, packaged in cellophane with a brown satin ribbon ($5 each). Gift boxes of brownies (2.5 oz each) can be purchased in counts of 6 or 12 and you get to choose which flavors to include.
Let's Shop Brownies!
Gift Presentation: Elegant. Their motto: "Elevating the Humble Brownie to a Luxurious Experience."
Pricing: Individual 5 oz size brownies start at $5, but let's not pretend you are only ordering one!
Corporate Gifts/Special Events: Yes, explore options at Blissful Brownies.
Take me there: Order gourmet brownies and gifts online at Blissful Brownies. Also available via Amazon.
Fairytale Brownies, Phoenix, Arizona
Fairytale Has Brownie Flavors to Please Every Taste
Fairytale Brownies come in 12 fudgy craveable flavors, each arrive individually wrapped, and you can choose from three different sizes. And as if that's not enough to help you find the perfect gift, you can even pick a box that expresses the message you want to send–Happy Birthday, Get Well, Thinking of You. Alternately you can super-customize a box with any logo or photo. And still they're not done delighting brownie lovers: they offer free shipping guaranteed.
Of their many flavors, they had us under their spell with their cream cheese and toffee crunch flavors. They also offer a selection of bars, blondies and cookies. All gifts are certified Kosher for dairy. Sugar-free options available.
Fairytale Brownies was founded by two childhood friends who grew up to make their dream of baking brownies based on a tried and true family recipe a sweet reality. Made with all-natural ingredients like Callebaut Belgian dark chocolate, butter and fresh eggs, the brownies and treats are made from scratch daily with no preservatives.
Fat Witch Gourmet Brownies, New York, New York
Famous and Intensely Chocolate Fat Witch Brownies
If you are shopping for classic moist, dense, chocolate brownies, the well-loved and legendary Fat Witch Brownies by Patricia Helding are your answer. in fact the Fat Witch brownies were one of the early picks for Oprah's Favorite Things in 2002. Curiously it doesn't look like the Fat Witch website design has been updated since 2002. But that's no reflection on the brownies. In fact the classic brownie and bar flavors now include their "Japanese flavor collection" which features Citrus, Honey, Matcha (green tea paired with white chocolate) and Almond.
Brownies and bars are available in two sizes: "Baby" and regular. They arrive individually wrapped in cellophane in a gift box or tin.
Let's Shop Brownies!
Gift Presentation: Cute with the Fat Witch sketch and logo.
Pricing: A lovely gift of a selection of 8 of their most popular flavors in the small size begins at $20.
Take me there: Order gourmet brownies online at Fat Witch Bakery.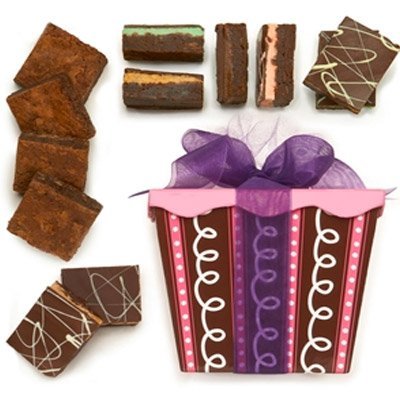 Classic and Layered Gourmet Brownie Gifts
If you've read this far, it's pretty obvious we have an insatiable sweet tooth. But give us a brownie that's really pretty too and we are helpless to resist. The brownies from Harvard Sweet Boutique come in the classic version which are rich, dense, and moist, made with melted Swiss bittersweet chocolate and pure Madagascar vanilla, and accented with semi-sweet chunks. And you can up the wow factor and choose the same brownie iced with pretty layers of mint, peanut butter or raspberry which are then topped off with a chocolate ganache. I mean c'mon. Pass me a brownie already.
Plus your brownie or cookie gift selection arrives in a really cute gift box that looks like a celebration.
Gluten-free and vegan brownie and cookie options are available.
Let's Shop Brownies!
Gift Presentation: Terrific! Lovely gift boxes make your gift feel like a celebration.
Pricing: Individual brownies weigh in at around 5 ounces. An order of 6 brownies weighs around 2 pounds. A generous gift box of goodies will run $40 and up.
Corporate Gifts/Special Events: Yes, explore options at Harvard Sweet Boutique.
Take me there: Order gourmet brownie and cookie gifts online at Harvard Sweet Boutique. Their classic brownies are also available via Amazon.